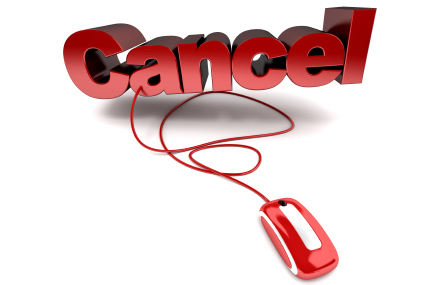 For years, many Cruise Lines have offered very flexible and lenient cancellation policies allowing cruiser vacationers to place a nominal refundable deposit and hold a stateroom of choice until final payment is due.

(avg. 60-90 days before sailing depending on the length of the itinerary)

As a result, many frequent cruisers have become very comfortable with these lenient policies over the years resulting in multiple cancellations.
Some cruise lines have reported that they experience an average of three to five cancellations and re-bookings per stateroom before a ship even sets sail.
As you can imagine, this creates a ton of
administrative
work for both the cruise lines and travel agents alike. We are now beginning to see changes in this trend with cruise lines moving final payment dates further away from the sailing date thereby imposing stiffer cancellation penalties earlier than in the past.
The following is provided courtesy of Dori Saltzman - Travel Market Report
Recent revisions to Carnival Cruise Lines' cancellation policies took effect on Jan. 30 are the latest in a gradual move by cruise lines to impose stiffer penalties.

Cruise line cancellation policies have remained fairly consistent for several years, with the severest penalties applied to cancellations on long cruises, on itineraries to exotic destinations, and on bookings canceled close to departure date.

But over the past two years some lines have quietly tweaked their policies. They've lengthened the number of days out from sailings when the strictest penalties apply and, in some cases, increased the amount of the penalty, sometimes doubling it.

To be fair, most lines have not made wholesale changes. Three that have are Royal Caribbean Cruise Line and Norwegian Cruise Line, which brought their policies in line with industry standards (in 2010 and 2011, respectively), and Regent Seven Seas Cruises, which last year implemented one of the most stringent policies in the industry.

Taken together, the changes to cancellation policies reflect cruise line efforts to boost revenues on all fronts. The stiffer penalties have a favorable effect on revenues in two ways. Longer penalty periods encourage
earlier
cancellations, and that improves a cruise line's chances of re-selling cancelled space. Of course higher penalties also allow cruise lines to retain a bigger share of the sale price on canceled bookings.

Policies differ by segment
The specifics of cancellations policies can vary widely among cruise segments and cruise lines. In general, the longer the sailing and the more exotic the itinerary, the tighter the policy, with severe penalties applied further out. The same is true of sailings during holiday periods.

Here's a look at cancellation trends and policies in the different segments – contemporary, premium and luxury.

Contemporary line trends
Most contemporary lines have altered their policies in the past couple of years.

The most extreme policy alteration was a wholesale change applied to all Royal Caribbean Cruise Line brands in May 2010, bringing its policy in line with industry standards. Norwegian Cruise Line made similar changes to its policy in 2011.

Both Royal Caribbean and Norwegian lengthened most penalty periods. They also added a 75% period, which previously hadn't existed.

The most recent change among contemporary lines came from Carnival. The cruise line has tightened penalty policies on sailings of six nights or longer sailings, increasing by 10 days the periods during which the deposit and 50% of the cruise price are charged. The change does not apply to Europe, Panama Canal and transatlantic cruises of six nights or longer.

Contemporary lines: standard policies
Most contemporary lines set similar penalty periods during which they charge the deposit, 50%, 75% and 100% of the cruise fare. Typically, shorter sailings have more lenient penalty periods.

Some lines lengthen the penalty periods based on different variables. Norwegian extends the penalty period for passengers booked in suites. Royal Caribbean and Princess extend the penalty period for holiday sailings; Princess also lengthens the penalty period on sailings of 30 days or more.

Premium lines: overview
There are considerable differences in the cancellation policies of the five premium lines – Celebrity Cruise Line/Azamara Club Cruises, Holland America Line, Costa Cruises and MSC Cruises.

That said, most premium lines have similar cancellation periods for deposit and 50% penalties, and most levy stricter penalties on lengthy cruises, such as world or grand cruises or their segments.

The disparity in premium line policies is most evident between Holland America and MSC. Holland America has somewhat-complicated policies that are based on itinerary rather than sailing length. MSC offers a more old-fashioned – and lenient – policy; for instance, there is no 75% penalty period.

Premium line trends
In the last two years, Celebrity and Azamara were the only two premium lines to make significant changes to their policies, as part of Royal Caribbean's changes. Holland America tweaked the 100% cancellation periods on a handful of itineraries.

Luxury trends
The cancellation policies of the luxury cruise lines also differ considerably. They are consistent in that penalties are levied further out, as most of the luxury lines offer longer and more exotic sailings. Also, penalties on world cruises and world cruise segments are the most severe.

In January 2011, Regent Seven Seas Cruises completely revamped its policy, giving it one of the most stringent policies in the industry.

Silversea Cruises tweaked its policy in December 2010, doubling its 25% penalty to 50% and increasing its 50% penalty to 75%.

Policies in detail
Travel Market Report compiled the following cancellation policies for 14 cruise lines. They are listed in alphabetical order by cruise line.
Azamara Club Cruises
All cruises and cruisetours:
Up to 91 days – $25 per guest
60 to 90 days – 20%
30 to 59 days – 50%
15 to 29 days – 75%
14 days or less – 100%

Carnival Cruise Lines
2- to 5-day cruises:
Up to 61 days before sailing – no penalty
46 to 60 days – deposit
30 to 45 days – 50%
15 to 29 days – 75%
14 days or less – 100%

6 days or longer, including Alaska/Hawaii:
Up to 76 days – no penalty
56 to 75 days – deposit
30 to 55 days – 50%
15 to 29 days – 75%
14 days or less – 100%

Europe, Panama and transatlantic cruises of 7, 9, 12, 14 or 17 days:
Up to 91 days – no penalty
56 to 90 days – deposit
30 to 55 days – 50%
15 to 29 days – 75%
14 days or less – 100%

Celebrity Cruises
Non-holiday, 5-night cruises or less:
Up to 60 days before sailing – no penalty
43 to 59 days – deposit
29 to 42 days – 50%
15 to 28 days – 75%
14 days or less – 100%

Holiday and Galapagos cruises of 5 nights or less:
Up to 90 days – no penalty
64 to 89 days – deposit
43 to 63 days – 50%
15 to 42 days – 75%
14 days or less – 100%

Non-holiday cruises of 6 nights or more, and cruisetours:
Up to 75 days – no penalty
57 to 74 days – deposit
29 to 56 days – 50%
15 to 28 days – 75%
14 days or less – 100%

Holiday and Galapagos cruises of 6 nights or longer:
Up to 90 days – no penalty
64 to 89 days – deposit
43 to 63 days – 50%
22 to 42 days – 75%
21 days or less – 100%

Costa Cruises
Caribbean Cruises, any length:
Up to 76 days before sailing – no penalty
57 to 75 days – deposit
30 to 56 days – 50%
15 to 29 days – 75%
14 days or less – 100%

Non-Caribbean Cruises, any length except World Cruises:
Up to 90 days – no penalty
57 to 89 days – deposit
30 to 56 days – 50%
15 to 29 days – 75%
14 days or less – 100%

All World Cruises/Grand Voyages:
Up to 90 days – no penalty
57 to 89 days – deposit
45 to 56 days – 50%
30 to 44 days – 75%
29 days or less – 100%

Crystal Cruises
All non-World Cruise or World Cruise Segment cruises:
Up to 76 days before sailing – no penalty
45 to 75 days – 10%
15 to 44 days – 50%
14 days or less – 100%

World Cruise Segments of 52 days or less:
Up to 91 days – no penalty
61 to 90 days – 10%
31 to 60 days – 50%
30 days or less – 100%

World Cruises and World Cruise Segments of 53 days or more:
Up to 151 days – no penalty
76 to 150 days – 20%
45 to 75 days – 50%
44 days or less – 100%



Cunard


Cruises of less than 30 days:
Up to 91 days before sailing – no penalty
61 to 90 days – 25% or promotional deposit amount
31 to 60 days – 50%
15 to 30 days – 75%
14 days or less – 100%

30 days or more:
Up to 121 days – no penalty
91 to 120 days – 25% or promotional deposit amount
64 to 90 days – 50%
43 to 63 days – 75%
42 days or less – 100%

Holland America Line
Caribbean, Panama Canal, Mexico, Bermuda, Canada & New England, Pacific Coastal, Pacific Northwest, Alaska, Europe (except Prinsendam Europe) and 14- to 27-day Hawaii:
Up to 76 days before sailing – no penalty
57 to 75 days – deposit
29 to 56 days – 50%
16 to 28 days – 75%
15 days or less – 100%

All Holiday, Australia/New Zealand, South Pacific, Asia, Prinsendam Europe and South America/Antarctica:
Up to 91 days – no penalty
64 to 90 days – deposit
43 to 63 days – 50%
22 to 42 days – 75%
21 days or less – 100%

Grand World, Grand Voyages or any segment of; 28-plus day Hawaii, Tahiti & Marquesas; Incan Empires; Amazon Explorer; 30-plus Europe transatlantic or any segment of:
Up to 121 days – no penalty
91 to 120 days – deposit
76 to 90 days – 60%
75 days or less – 100%

MSC Cruises
All cruises:
Up to 76 days before sailing – no penalty
46 to 75 days – deposit
16 to 45 days – 50%
15 days or less – 100%

Norwegian Cruise Line
5 days or less:
Up to 61 days (non-Holiday cruises) before sailing – no penalty
Up to 76 days (Holiday cruises only) – no penalty
45 to 60 days (non-Holiday cruises) – deposit
61 to 75 days (Holiday cruises only) – deposit
30 to 44 days – 50%
15 to 29 days – 75%
14 days or less – 100%

6 days or longer:
Up to 76 days (non-Holiday cruises) – no penalty
Up to 91 days (Holiday cruises only) – no penalty
56 to 75 days (non-Holiday cruises) – deposit
76 to 90 days (Holiday cruises only) – deposit
30 to 55 days – 50%
15 to 29 days – 75%
14 days or less – 100%

All cruises, suite passengers:
Up to 120 days – no penalty
90 to 119 days – 25%
56 to 89 days – 50%
55 days or less – 100%

Oceania Cruises
19-day cruises or shorter:
Up to 91 days before sailing – no penalty
76 to 90 days – 25%
61 to 75 days – 50%
31 to 60 days – 75%
30 days or less – 100%

20 days or more:
Up to 151 days – no penalty
121 to 150 days – deposit
91 to 120 days – 50%
61 to 90 days – 75%
60 days or less – 100%

Princess Cruises
5 days or less:
Up to 60 days before sailing – no penalty
43 to 59 days – deposit
29 to 42 days – 50%
15 to 28 days – 75%
14 days or less – 100%

Non-holiday, 6 to 29 days:
Up to 75 days – no penalty
57 to 74 days – deposit
29 to 56 days – 50%
15 to 28 days – 75%
14 days or less – 100%

Holiday, up to 29 days:
Up to 90 days – no penalty
64 to 89 days – deposit
43 to 63 days – 50%
22 to 42 days – 75%
21 days or less – 100%

30 days or more:
Up to 120 days – no penalty
90 to 119 days – deposit
64 to 89 days – 50%
43 to 63 days – 75%
42 days or less – 100%

Regent Seven Seas Cruises
Cruises of 25 nights or fewer:
Up to 121 days before sailing – no penalty
91 to 120 days – 15%
61 to 90 days – 50%
31 to 60 days – 75%
30 days or less – 100%

26 nights or more:
Up to 151 days – no penalty
121 to 150 days – 25%
91 to 120 days – 50%
76 to 90 days – 75%
75 days or less – 100%

Royal Caribbean International
Non-holiday, 5 nights or less:
Up to 60 days before sailing – no penalty
43 to 59 days – deposit
29 to 42 days – 50%
15 to 28 days – 75%
14 days or less – 100%

Holiday, 5 nights or less:
Up to 90 days – no penalty
64 to 89 days – deposit
43 to 63 days – 50%
15 to 42 days – 75%
14 days or less – 100%

Non-holiday cruises; 6 nights or longer, and cruisetours:
Up to 75 days – no penalty
57 to 74 days – deposit
29 to 56 days – 50%
15 to 28 days – 75%
14 days or less – 100%

Holiday cruises, 6-plus nights:
Up to 90 days – no penalty
64 to 89 days – deposit
43 to 63 days – 50%
22 to 42 days – 75%
21 days or less – 100%

Silversea Cruises
All sailings except World Cruise or World Cruise Segments:
Up to 121 days before sailing – no penalty
91 to 120 days – 15%
46 to 90 days – 50%
31 to 45 days – 75%
30 days or less – 100%

World Cruise or World Cruise Segments of 56 to 115 days:
Up to 121 days - $250 - $500 per guest depending on stateroom category
91 to 120 days – 20%
75 to 90 days – 50%
74 days or less – 100%